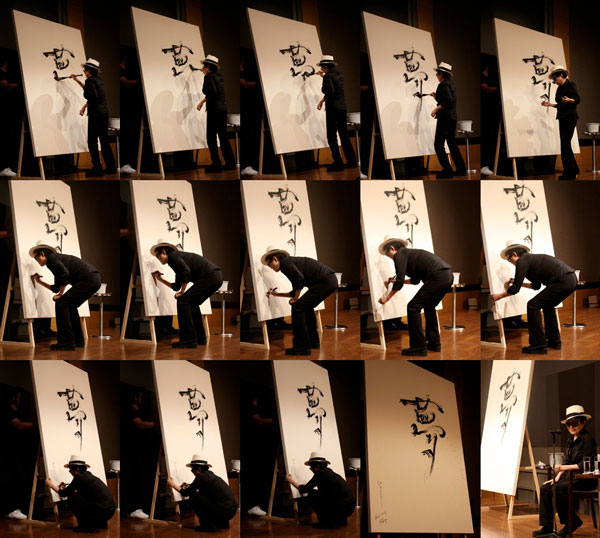 Artist and peace activist Yoko Ono (78), wife of the late John Lennon, was recently honored with the 8th Hiroshima Art Prize. The award honors artists whose work has contributed to peace. To commemorate this, The Hiroshima Museum of Contemporary Art is hosting "The Road of Hope: Yoko Ono 2011," an exhibit honoring the "spirit of Hiroshima that yearns for permanent world peace and prosperity for all humanity."
The show is on display through October 16, 2011. It features new works by Yoko Ono inspired by the survival of Hiroshima and Nagasaki, and by the disasters that struck Japan in March, 2011, "with hope for the future."
I spoke to Yoko Ono in Japan a few days after she received the Hiroshima prize. She was in Tokyo to speak about "The Road of Hope" at the MORI art museum.
...
Tags: amazon, Anouschka, Apple, architecture, art, Austria, Austria, awards, awards, Bangkok, Bild, bio, blog, books, books, Brazil, business, celebrities, celebrity, charity, chat, chic, children in need, China, Cnyrim, Cnyrim, concerts, Contact, cool, daily life, design, Deutschland, Dubai, Eco, education, energy, England, entertainment, environment, environment, erfolg, Espania, Events, events, exchange, Facebook, fairs, family, family, fashion, festivals, financial, fitness, France, Fun, fun, future, future, gallery, games, Germany, Google, gourmet, Great Britain, green, health, heroes, Hong Kong, Hotels, I Pad, i-can, India, information, internet, iPhone, Italia, Italy, jokes, kids, Kimmel, Kosovo, lifestyle, links, love, media, money, music, music, Nataly, Nataly, network marketing, news, news feed, Oesterreich, People, people, Peter, Petrys, philanthropy, photography, photos, productivity, projects, quotes, Restaurants, rss, Russia, Save, science, shopping, slim, slimming, social, social networks, Spain, sport, sports, style, succes, success, successo, tech, Thailand, the best, the worlds, travel, trends, Twitter, UAE, United States, USA, videos, VIP, web, wine, world, world, worlds best